There's Something Wrong with Jerad Eickhoff
Jerad Eickhoff has a problem: he is completely ineffective against left handed hitters. To this point, he's been able to hide the extent of the issue by maintaining a respectable overall stat line, and he's done this by keeping right handed batters in check. As bad as Eickhoff has been against lefties, he's dominated righties to a similar extent.
| | | | | |
| --- | --- | --- | --- | --- |
| Batter | K-BB% | OPS | wOBA | FIP |
| Lefty | 10% | .878 | .371 | 4.76 |
| Righty | 25% | .502 | .218 | 2.25 |
The difference is drastic, and the problem is that he's unlikely to improve on that extreme level of dominance against right handed batters. So if you're looking for consistency or improvement out of Eickhoff, he's going to need to resolve the issue against lefties.
There have been a number of solutions presented to solve this problem. The most common among them is the need for Eickhoff to improve his changeup, a classic platoon busting pitch. But while it wouldn't hurt to have a decent changeup in his back pocket, it's missing the mark on what's causing Eickhoff's platoon issues.
Instead of focusing on improving a weak pitch, Eickhoff would be better off playing to his strengths. He has two pitches that can be effective against left handers, he just needs a tweak or two to get the most out of those offerings. So while everyone is calling for an improved changeup, Eickhoff should simply…
Embrace the Curveball
Eickhoff's curveball is a dominant pitch. He's thrown 190 curveballs to left handed batters, and they have amassed a total of three hits against the pitch. Even as the game progresses, and he increases his usage of the pitch, it doesn't lose its effectiveness.
| | | |
| --- | --- | --- |
| Times through Order | Thrown% | Whiff% |
| 1 | 21% | 15.5% |
| 2 | 27% | 11.8% |
| 3+ | 32% | 17.2% |
And when it comes to putting a batter away with two strikes, his curveball has drawn a swinging strike 23.5% of the time it's thrown. Eickhoff's issues are not due to an inability to put lefties away when he has them on the ropes. The problem resides in getting them on the ropes to begin with, and that is why he needs to…
Scrap the Two-Seamer
Eickhoff throws his two seam fastball almost exclusively to left handed batters. And this year he increased his usage of the pitch, to the point of favoring it over his four seam fastball.
| | | |
| --- | --- | --- |
| Year | 4-Seam% | 2-Seam% |
| 2015 | 40% | 20% |
| 2016 | 26% | 33% |
The intent was likely to coax more ground balls, and to that end he has succeeded. The problem is the total amount of contact and lack of strikes he obtains with the pitch. You can see it in the side by side comparison of his two fastball offerings to lefties spanning his time in the majors.
| | | | | | |
| --- | --- | --- | --- | --- | --- |
| Pitch | Ball% | Strike% | Foul% | Ball-in-Play% | Whiff% |
| 4-Seamer | 37% | 21% | 23% | 20% | 4.9% |
| 2-Seamer | 36% | 14% | 15% | 35% | 4.4% |
The two seamer is put in play an incredible 75% more often than his four seamer. And while the sample isn't large enough to come to any sweeping conclusions on the results of that contact, the sheer volume alone raises a huge red flag. The problem likely comes from the lack of movement, as he doesn't get much sink or horizontal run on the pitch. Lefties are seeing it well enough that they're swinging often when the pitch is in the strike zone, and they're rarely missing.
With so much contact and an inability to draw strikes, the two seamer really needs to be shelved completely in favor of his other fastball, a four seamer that he should…
Throw Up in the Zone
Conventional baseball wisdom says to keep the fastball down in the zone. But Eickhoff's four seamer has above average "rise" that plays better in the upper portion of the zone. Most of his four seam strikes against lefties, both of the called and swinging variety, have come in that upper half.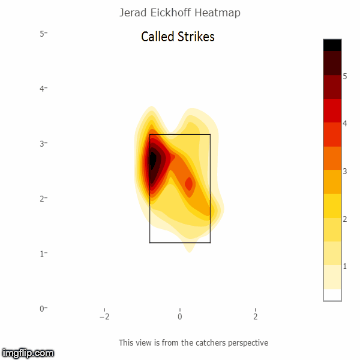 But this is not the area Eickhoff targets with his fastball, or even intends to target. He generally throws to the outer edge of the plate, but in the middle to lower half of the zone. And this wouldn't be a terrible area to pitch to if he could repeatedly hit that location. But pitchers don't always hit their spots, and when Eickhoff misses with his four seam fastball, he tends to miss to his glove side. That leaves the pitch right in the path of the left hander's power zone.
Image from Fangraphs.com
When pitching to the outside corner, but at the top of the zone, a missed pitch is a much less vulnerable offering, and the glove side miss puts the pitch into more frequent pop up territory as it gets closer to the batter.  The pop up may not be as glamorous as the strike out, but the outcome is essentially the same. It's converted into an out almost 100% of the time, and runners do not advance on the play. Eickhoff has shown a propensity for inducing the pop up at a rate that would put him towards the top of the league in the category.  But most of these automatic outs have come off the bats of right handed hitters. He would do well to also get his rising fastball underneath the bats of their left handed counterparts.
It would only take a few more strikeouts and weakly hit balls to cut into Eickhoff's drastic platoon split, and he already has the two pitches he needs to do it. Perhaps he'll eventually develop that third pitch, whether it be the aforementioned changeup or a cut fastball he can use to get in on the hands of the batter. A pitch like that might turn out to be a useful addition to his arsenal.
But in the meantime…
Embrace a great pitch. Eliminate a bad one. Throw to an area where strikes are more frequent, where misses are going to lead to more pop ups and fewer extra bases. Get a lefty or two out in the process.