J.C. Romero came to the Phillies after he was released by the Boston Red Sox in early June, 2007 and was immediately given the ball in high-leverage situations. His average pLI more than doubled as a Phillie from 0.60 to 1.37 (above 1.00 is high leverage). While, as a left-hander, he was expected to retire other lefties, he also held right-handers in check as well. Romero became a stalwart of the Phillies' bullpen and helped end the organization's long playoff drought. His performance earned him a three-year, $12 million contract extension during the off-season.
He brought his magic to the Phillies' bullpen again in 2008. In 81 appearances, he held lefties to a .346 OPS and .051 ISO. During the post-season, he did not allow a hit in his first seven appearances.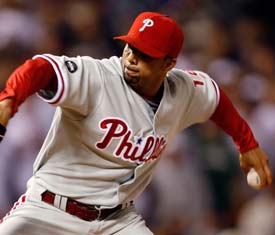 2009, however, was a struggle. He started the season serving a 50-game suspension for testing positive for a banned substance, wrongfully so he maintains. When he returned, he wasn't exactly bad but he lacked control and had an inability to retire left-handed batters (.976 OPS). Romero was placed on the 15-day disabled list with a forearm strain after an outing against the Florida Marlins. He did not return until September 28 and was not able to help the Phillies in the post-season. During the off-season, he had surgery to repair the flexor tendon in his pitching elbow.
It appears that losing Romero for any period of time is a blow to the team, considering how great he has pitched for the Phillies. However, going forward, should we expect Romero to continue to dominate hitters the way he has over the last two and a half years?
Let's start with his walk rate: it is simply way too high. In his six full seasons with the Twins and one with the Angels, his BB/9 ranged from 3.32 to 6.16. With the Phillies from 2007-09, it was 6.19, 5.80, and 7.02. Simply unacceptable walk rates for a pitcher who is brought in to high-leverage situations. He will be 34 on June 4. As they say, "you can't teach an old dog new tricks." He is not going to improve his control by any substantial margin.
Additionally, Romero has benefited from abnormally low BABIPs.
| | | | |
| --- | --- | --- | --- |
| | 2007 | 2008 | 2009 |
| Overall | 0.242 | 0.238 | 0.250 |
| vs. LH | 0.276 | 0.123 | 0.353 |
| vs. RH | 0.220 | 0.346 | 0.185 |
Pitchers have very little control their BABIP. It will generally hover around .300, but as Tommy Bennett of Baseball Prospectus noted, "Generally relievers have BABIP about .005 lower than starters". I don't know for sure but I would assume that BABIP would be slightly lower for specialty pitchers like LOOGYs, but Romero actually faced right-handed batters more often than left-handed batters, between 56-61% as a Phillie.
Even if we give Romero extra LOOGY credit, his BABIP has been unsustainably low. His career average, as one would expect, is .294 and it was never that low prior to coming to Philadelphia.
Some of the credit has to to go the Phillies' defense — particularly the infield, as Romero has induced 55-64% groundballs. The infield's UZR/150, from 2007-09:
| | | | |
| --- | --- | --- | --- |
| | 2007 | 2008 | 2009 |
| Howard | 0.4 | 2.4 | 1.2 |
| Utley | 21.0 | 21.4 | 11.3 |
| Rollins | 6.3 | 15.0 | 2.9 |
| Feliz | – | 9.3 | 5.0 |
| Nunez | 7.2 | – | – |
| Helms | 0.6 | – | – |
| Dobbs | -1.6 | -9.2 | – |
The combination of good luck and the Phillies' excellent infield defense have contributed a lot to Romero's abnormally low BABIP. Logically, we should expect regression to the mean, especially since the Phillies' infield defense in 2010 is unlikely to be as good as it has been over the past three years given aging and the replacement of Pedro Feliz with Placido Polanco.
As a result, the Phillies should not give Romero high leverage innings when he is fully healthy. He walks far too many batters and will no longer be able to perform the tightrope-walking act that has made him famous in his two and a half years in Philadelphia. Romero does have a legitimate skill in retiring left-handed hitters, though, as he has held them to an OPS .203 lower than right-handers. Additionally, Romero averages an extra strikeout per walk against lefties.
The best bullpen "lineup" for the Phillies would give Romero's high-leverage innings to the trio of Ryan Madson, Danys Baez, and Jose Contreras, while Romero becomes the defacto LOOGY. This would also remove the pressing need for the Phillies to carry two left-handed relievers on the roster, thus Antonio Bastardo can go back down to AAA Lehigh Valley and go back to starting games while developing his change-up.
Believe it or not, it is good for the team that Romero will not be ready by Opening Day because it will force them to assign new roles in the bullpen in the meantime. Romero has been great, but he should be used strictly as a LOOGY going forward.