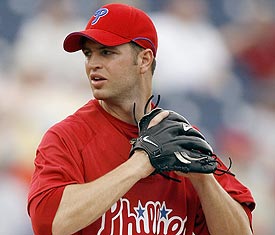 When Chan Ho Park was signed by the Philadelphia Phillies during the off-season, many thought it was a frivolous acquisition, since lefty J.A. Happ had pretty much done all he could do in the Minors and had shown decent stuff and poise in his brief Major League stints. Happ went into spring training in competition with Park as well as Kyle Kendrick and Carlos Carrasco for the #5 spot in the rotation.
Kendrick and Carrasco fell out of contention rather quickly, leaving Happ and Park to duel it out for the rotation spot. At the end of spring training, both had performed very well, but since the Phillies had made an informal promise to Park that he would get to start (and they're paying him up to $5 million), they awarded him the position.
We're now past the first week in May and Park has made five starts. In only two of them did he reach the sixth inning. Overall, he has a 6.67 ERA and has allowed five home runs. He's been disappointing, to say the least.
Prior to his recent quality outing against the New York Mets, there was a lot of speculation that Park's job was in jeopardy, especially if he put up another clunker. Fortunately for him, and perhaps unfortunately for the Phillies down the road, he did not, instead earning a reprieve for at least another couple starts.
Despite the roadblock, it would not be surprising to see Happ inserted into the Phillies starting rotation at some point during the season. He's pitched very well this season as the long reliever, putting up a 2.84 ERA in 19 innings. Happ would most likely benefit the Phillies better by leveraging his talent over a span of five or six innings as opposed to two to four when one of the Phillies' starters gets shelled.
I thought it'd be a good idea to get familiar with Happ using Pitch F/X. While he is no Cole Hamels, he bears a resemblance to former Phillie Randy Wolf in that he doesn't have anything overpowering and relies more on out-thinking the hitter. Happ throws a fastball, a slider, and a change-up which have averaged 90, 83, and 81 MPH respectively. So far, he's used his fastball a lot: 78%. He's used his slider and change-up 17% and 4% respectively.
His fastball usage is so high because of the way he's been used so far: he mostly appears in games when the Phillies fall behind by a lot early. As a result, his job is to just throw strikes and avoid putting base runners on for free. If he were a starter, his fastball usage would be down in the low 60's.
To the charts!
The above chart shows the horizontal and vertical movement of Happ's three pitches. As you can see, his fastball has a lot more vertical movement than his slider — about six and a half inches more on average. His change-up is, as you might expect, similar to his fastball in terms of movement.
Happ isn't as consistent with his release point but I would be surprised if that was unintentional. Notice the two blue diamonds that stand out. That's his change-up. It's a small sample, but this might be something to keep an eye on: his release point for his change-up is about as high as that of his fastball, but it's more towards the left-handed batter's box. If hitters pick this up, his change-up will be much less effective.
The next three charts show his pitch locations overall, to left-handers, and to right-handers. All of the remaining pitch location graphs are from the catcher's perspective.
Use those charts with this table of data:
According to the data, it seems like Happ has better control over his slider than his fastball. Eyeballing the charts, Happ has been wild up and out of the strike zone frequently with it, especially to right-handed hitters.
However, he has gotten better results with the fastball. His slider is more effective against left-handers, unsurprisingly.
That one change-up he threw to a left-handed hitter? A home run to Jordan Schafer.
Overall, right-handed hitters have a paltry .381 OPS against Happ in 59 plate appearances while lefties have a .978 OPS in 17 plate appearances. It's a small sample size, but still interesting to note the reverse platoon split. Last season, right-handers and left-handers performed equally as poorly against Happ with a meager .656 OPS.
This chart shows the location of pitches that batters have not made contact with:
CStrike is a called strike and SStrike is a swinging strike.
Overall, there's nothing surprising about the results. Hitters have a good idea of the strike zone against Happ, as you don't see a lot of swinging strikes out of the zone.
This chart shows the location of pitches that hitters have made contact with:
Happ gets a lot of swinging strikes up in the zone with the fastball and tends to have more success when his pitches end up on the inside part of the plate to a right-hander. As much as Happ throws up and out of the zone, most of them have been taken for balls, indicating that he probably needs to bring his pitches down a bit or try something else.
In summary…
The Good
Happ's reverse platoon split suggests he is not a good candidate for the bullpen if manager Charlie Manuel thinks he can get left-handers out on a consistent basis (he hasn't been used as a LOOGY so far). This is a good thing because he belongs in the starting rotation. And if he's moved to the starting rotation, he'll face more right-handers.
He has an effective fastball with decent velocity. If he can improve his change-up, his fastball would become that much better.
He has good control over his sliders, but…
The Bad
Happ needs to throw his sliders for strikes more often (this doesn't mean he lacks control of them), especially to left-handers. The number is somewhat artificially high since he throws a lot of low sliders in an attempt to get them to chase, but they'll never get swung at if he can't find the zone with them.
He isn't deceiving anyone with his fastballs up and out of the zone.
His change-up, at this point in time, isn't doing much for him at the rate he's using it. He should either scrap the pitch altogether or work on improving it. Unfortunately, the latter option isn't realistic since he'll likely be in the Majors all season.