Mark Schruender at Fantasy Baseball Hot Stove asked me a few questions about the Phillies' trio as it relates to fantasy baseball. You can check that out by clicking here. A little taste:
FBHS: Cole Hamels was on the cover of Sports Illustrated a couple weeks ago. So is the beginning of the season just the beginning of the season or is there more to be concerned about here?

CBA: Hamels has actually been a bit unlucky. His 5.5 K/BB rate is higher than those he's had in previous seasons (career-high: 4.12 in 2007). Opposing batters are hitting .412 on balls in play. His HR/FB of 35.7% is much, much higher than the general average of around 10% (his career average is at about 12.5% including his few starts this season). He's had a 7% dip in fly balls allowed but that's been replaced by a 10% increase in line drives.
In other news, New York Mets outfielder Daniel Murphy has made yet another hilarious defensive gaffe. Courtesy the Phillies forum Back She Goes: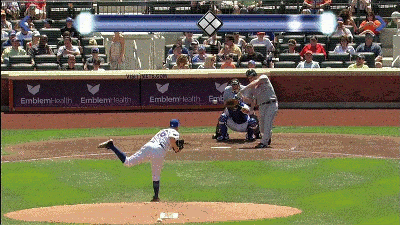 You may recall a few days ago, Murphy had this Web Gem:
It must be a fun time to be in New York right now. The Yankees and Mets are playing poorly, the Knicks are terrible, and the Rangers are about to blow a 3-1 series lead to the Washington Capitals in the NHL playoffs.